This is my first attempt at writing a blog but I'm going to try my best. The Artful Lodger has pushed through the pass two years. The Newport business owner has had to adapt and get creative. We took this time to renovate the Inn but still kept the Victorian charm.
Before I talk about my favorite holiday, how about Hocus Pocus 2 being filmed at Washington Square. Last November a set construction was erected in front of the courthouse, the same courthouse that filmed most of the jury scene in the movie (Amsted). They continued to make a Halloween town in the park next door. With special effects and smoke machines they bought Hollywood to Newport. I can't wait to see the finish product on the big screen.
March 12th is Newport St Patrick Day parade, rain, or shine. 11 am at City Hall to lower Thames. If you want your St Patty's Day celebration to last all day. The Landing, Blue Café and The Deck are the best places to dance it up. Good vibes in the sea of green but you will see many drunk people, which is fun to watch right!
Buskers has hearty corn beef dinner that warms you right up. Also try the new hip bar & hotdog place called Wally's Wieners. They are dog friendly, and have a hotdog called (The Heidi).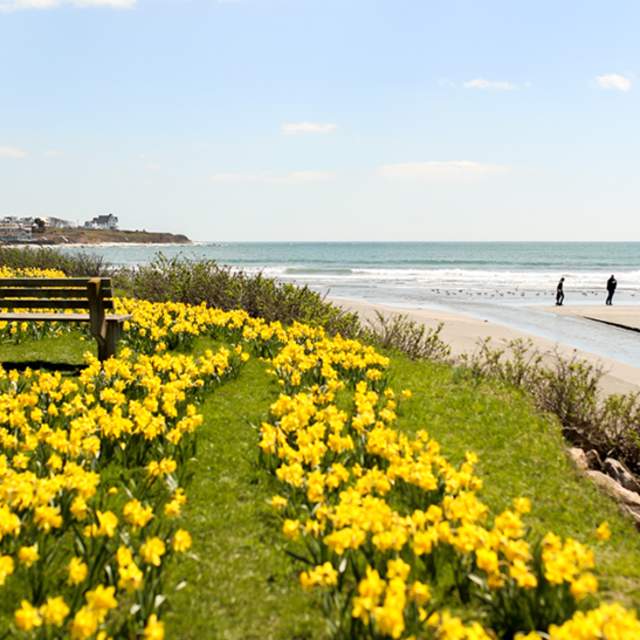 A couple of weeks after the parade, daffodil start popping up. bright splashes of yellow covers aquidneck island. On April 9th the Daffodil festival begins and continues for the whole month. One of the festival events is driving miss daffodil, A car show at Easton beach. www.newportdaffydays.com
After the long New England winter, we need to dust off the winter blues and get outside. Springtime in Newport is magical and is by far the best time to visit. So, to end my first blog, I'm proud of our little tourist town and love that Newport is the all-time seaside destination.
Written by Inn Manager Heidi Soares